In the first blog in this series, I wrote about our early experiments with using Spire prototypes in the dance studio. Recap: We wanted to understand how this technology might change the way we think about moving, by pushing us into less familiar relationships with the breath that is so intrinsic to what we do as dancers. And we were testing how we could produce new choreographic processes through this interactive technology by building feedback loops with the sensor data (among other things).

At the end of our first period of research and development, Megan, Ben, and I arrived at an overarching framework for the project and its public presentation: the Breath Catalogue. Think of an old European cabinet of curiosities, except in performance form. Here, instead of collecting knick-knacks and tangible things, we collect, use, and share palpable experiences of and data on the performers' breathing. Under different tasks, our breath is unpredictable, messy, and varied. What appeals to us about the idea of the cabinet or catalogue is retrieving these different breath samples in new circumstances through the process of live dance. At the same time, it gives us the opportunity to treat new performances as breath events that can themselves be collected as catalogue entries grow. Each performance pulls these various "curios" out of the catalogue and also adds new ones back in.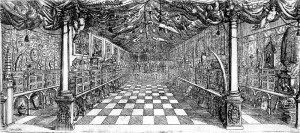 We are currently working towards our first evening-length performance in late July in San Francisco, but in March we were invited to Copenhagen for our first "catalogue entry." My solo in Denmark was a performance-lecture: it started as a traditional lecture but ended up as primarily movement. The lecture and movement components were connected by two choreographic vocabularies that we have been working on in the studio: i) speaking as itself a kind of breath exercise, and ii) using dance to "agitate the container," ie: moving to move the breath within the body. As the background for the first part of the performance, we projected a photograph taken during a walk in Copenhagen the day beforehand. While we had been walking, we recorded data from my breath. The lighting washout on the image correlated to sensor data saved from my breath during that walk, and in performance my movement also correlated to the changing image. Toward the end of the performance, we changed from this saved breath sample to a different visualization, one that was based on the data from my breath right then and there. I told the audience: "That was my breath then. And I'm saving this with you now."
Back in the rehearsal studio, these materials return. The photo for example, from the corner of Borgergade and Kongens Nytrov, is part of a new scene. And we are still experimenting with how to mix saved breath samples like a DJ. If you want to hear about the Breath Catalogue performances coming up in San Francisco on July 16th and 17th at Fort Mason Center, give us a shout .